RB Metrology is a renowned company for latest technology measuring instruments. Established in the year 2008 at New Delhi, we are known as a reputed trader and supplier of Dimensional Metrology Equipment like CMM, Portable Arm CMM, Roughness Tester, Roundness Tester, Contour Graph, Video Measuring Machine, Profile Projector, Height Master and, White Line Scanners. Apart from that we are dealing in Air Dryers, Bench Centers, Surface Plates, Spectrometer, Universal Testing Machines, Cam / Crank Shaft Measuring Machines, Hardness Tester, VMC, CNC Turning Center and Digital Read out Systems. The products stand out in the market for their high functional features, precise application suitability and long service life.
We source the range from globally renowned designers and manufacturers such as Carl Zeiss, Accu-tech, Faro, Spectromax, Octagon, Bagson and several other reputed companies in the measuring instruments manufacturing industry. The range of products we offer is in high demand for their remarkable features, optimum performance, technical superiority, accurate results and durability. These products are perfect for high precision measurements, scanning from different angular positions, gauging contours or outlines of devices or machines and various other applications. Apart from the products we also provide after sales services to our clients. Our technical experts possess complete knowledge of the functioning of these instruments and machines. They train the end users to operate with efficiency.
Our company firmly believes in providing the best quality products to the clients. Therefore, we monitor entire business processes to be followed in a systematic way to accomplish the different tasks efficiently. Every stage, from procurement of products to final delivery at clients end, is closely supervised by experts in order to ensure maximum client satisfaction. We have created necessary facilities to store the products safely and ascertain secure delivery at customers location.
We work with a motivation to serve the best quality products to our clients. Our Managing Director, Mr. Dinesh Ahuja, imparts the same culture of high customer service among the team members. He exhorts and guides all the members to work as a team to come up with the best output for the customers. His inspirational leadership has paved the way for high growth and success for the company.




Projector Catalogue

ConturaG2 Detailed Catalogue

Duramax Detailed Catalogue

SpectrumII RDS Catalogue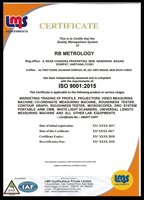 Read More